Become a Sponsor for 2019 Events and Programs
In 2019 and for the next few years, we will be expanding our environmental education programs and initiating the collection of community feedback. Our goal is to more fully understand the demographics and needs of our current and potential park user groups. We will use this information as a basis to determine how a new environmental education center could have the most positive impact on our community in the future in a manner appropriate to our marvelous forested equestrian and pedestrian park.
To achieve our new goals, we will need your support. As shown in the graphic below, we are offering a range of benefit options to your organization for different levels of financial support for our 2019 events and programs. These events and programs include:
Family Entertainment (Egg Hunt in April, Party in the Park in June, and Halloween Scavenger Hunt in October)
Music (Bluegrass in August)
Interpretive Walks (May through November)
Stewardship events (Earth Day in April and Public Lands Day in September)
Custom walks and presentations for senior centers
Environmental education programs for schools, after-school groups, scouts, and summer camps
You can find a list of our public events here. Please consider helping us continue in our efforts to make the user experience at the park better by donating at one of the listed sponsorship levels.
If you wish to mail us a check, a downloadable PDF form can be found here. Or, you may make an online sponsorship donation here.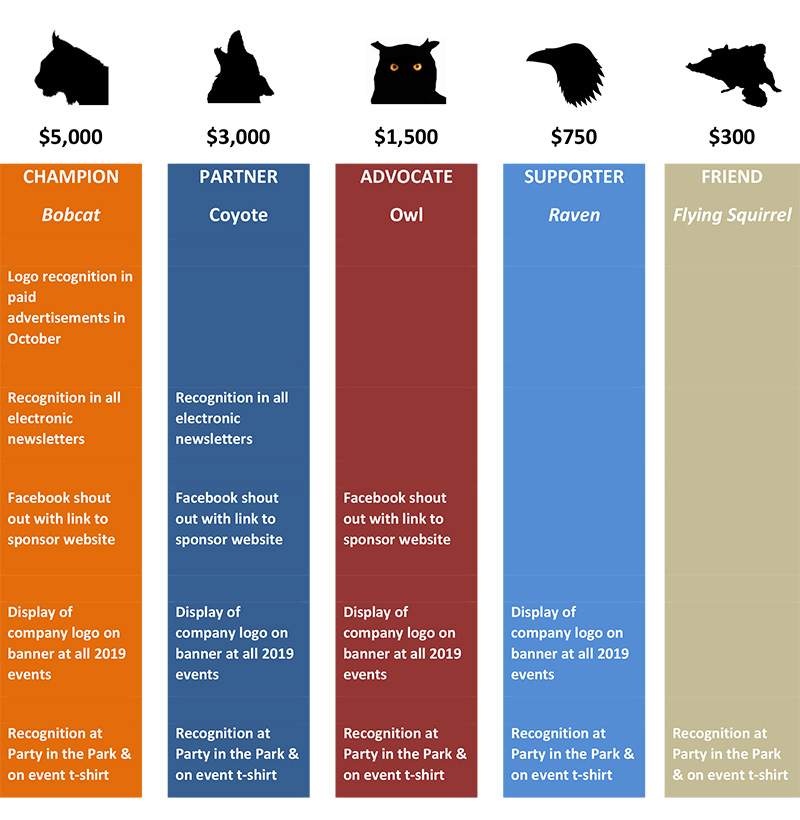 ---