17th ANNUAL PARTY IN THE PARK – ONE OF OUR BEST IN RECENT YEARS!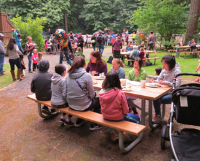 On Saturday, June 22nd, over 1,000 members of the community gathered to celebrate our unique equestrian and pedestrian forested sanctuary, Bridle Trails State Park.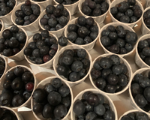 Good Food + Good Fun = Great Times
More than 600 enjoyed the first-rate pancake, sausage, and organic fruit breakfast provided by one of our 2019 sponsors, PCC Community Markets, and nearly 100 trail lovers helped to kick off our newly branded Coyote Challenge 5K Run.  A short safety session on runner and horse trail safety was added just before the run. Our stick horse and his rider did a great job showing what can happen when runners approach a rider from behind too fast with no warning. Not a good idea! Because equestrian use is a large part our park, we added a Farrier Demonstration this year, providing an opportunity for people to see how horses are shoed and to ask questions.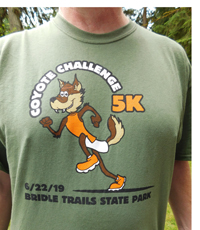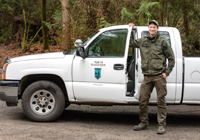 Many other active families hit the Family Adventure Trail. We had great feedback that participants appreciated the informational signs along the 1K route about the park, its plants and animals, and our wonderful Park Ranger, Matt Birklid. Providing an opportunity to get people out on the trails and learn about the park is something we are trying to add to all our public events for families.
Kid Activities Abound
Keeping with tradition, the Pony Rides, Face Painting, Hula Hooping, and Balloon-animal Artists were all very popular. This year we added the Toymaker's Workshop, which was also a big hit with kids, who constructed small replicas of horse jumps - sawing, hammering, assembling, and decorating, for a very special Party in the Park paper horse to jump over. A Washington State Parks Interpretive Specialist was also present with a coyote pelt, rubber poop, and information about State Park programs and native wildlife. And always an annual favorite, the Donkey Dash once again drew close to one hundred children into the arena for fun with neighborhood resident mini donkeys, Teddy Roosevelt and Pickles.
| | | |
| --- | --- | --- |
| Pony rides | Petting zoo | Toy making |
| Balloon artist | Donkey dash | Hula hooping |
Unrivaled Equestrian Entertainment 
The main arena was action-filled, with unique equestrian performances packing the stands and fence railing spaces pretty much the entire event. The always popular Seattle Knights jousting team returned, and we added an amazing Flying Duchess Mounted Archery demonstration. Impressive how accurate those two "Amazon" women were riding at a gallop! New this year, also, was the very cool Petite Prancers Mini Drill Team demonstration of miniature horses (not ponies!) pulling two-wheel carts to music in complex patterns in the arena. The Island County Drill Team and Ellensburg Rodeo riders also returned for some great, high-energy runs around the arena energizing the crowds. Kids loved the rodeo queens, who, year after year, are always happy to answer questions and engage the community.
Celebration of Bridle Trails Community 
Everything was free, except for the $5 breakfast and run registration, but donations were, and always are, gratefully accepted! All in all, a very successful event, which would not have been possible without our Great 2019 Sponsors and our many Wonderful Volunteers! A huge thanks to all!
---