Newsroom
Earth Day Event a Big Success
Posted on 04/24/2014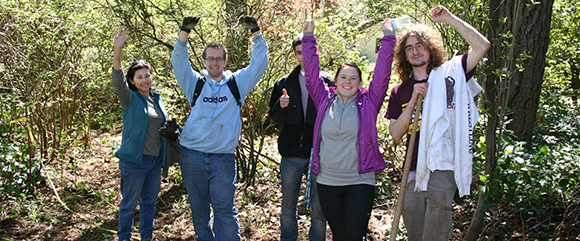 About 65 people, including Brownie Troop #42956 and Cub Scout Pack #428, with parents, turned out to pull out invasive blackberry and ivy, then plant some native shrubs and trees on April 19 around the main parking lot. The group filled a good part of a dumpster with plant material removed. Pacific Topsoils generously donates a dumpster each year, then disposes of the plant material in its composting operation. Thanks!
The weather was fine until about 11:00, when it started to rain. But the rain did not deter the intrepid volunteers, who continued to pull weeds and plant shrubs and trees. Most stayed for a free pizza lunch, huddled in the hallways of the horse-show judges building.
A huge thanks to all who turned out! That includes State Parks staff, who helped organize and run the event, and pitched in with the work.
---