Newsroom
Ranger Mary Welborn Retires
Posted on 04/26/2014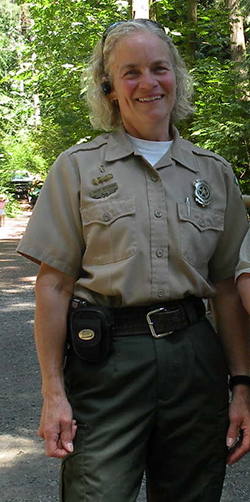 Bridle Trails Park Ranger, Mary Welborn, Retires
by Alice Prince
Yes, folks, the rumors are true. State Parks Ranger, Mary Welborn, our Ranger at Bridle Trails State Park for the past 30+ years, retired at the end of 2013. Although another ranger will soon be watching over Bridle Trails as one of the parks in her care, she will have some big boots to fill.
Mary was an exceptional ranger with a passion to steward and protect our Park and took pride in keeping it clean and safe for all who came to use or visit it. She worked year round with her tractor and chain saw to keep the trails clear of trees and debris that may have closed a trail or created a hazard to equestrians or pedestrians. Events didn't happen without her there to drag or water the arena for some horse show or lay out a course for a 5 or 10K run through the park.
She worked with the artist to create trail markers and interpretive signs that can be seen throughout the park, and taught classes about the flora and fauna to students from several surrounding elementary schools. Many park users regarded her as their friend, but Mary was also the law in Bridle Trails – and was not afraid to enforce it in an effort to keep the park safe for everyone.
We want to wish Mary all the best in her retirement and count on seeing lots of her as she continues to work (on her time frame) as a volunteer in Bridle Trails State Park as well as being an active equestrian with her mare Libby.
---