Newsroom
Horses & Hops Event July 16th Was Fun!
Posted on 07/17/2014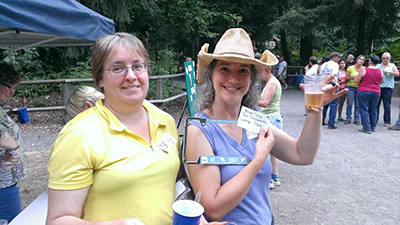 Horses & Hops Event Generates New Fun with Friends!
On Wednesday, July 16th, twenty four riders from our local equestrian community gathered to participate in the first-ever Bridle Trails State Park trail prize ride. The event was organized with assistance from our neighbors at the Lake Washington Saddle Club. Participants were given a map and told to check-in at key points throughout the park where they were invited to draw numbers or answer questions which were then used to determine prizes at the conclusion of the event.
Riders found the 60+ minute trail ride through the park an outstanding adventure and cool treat on such a hot summer's day. Participants chose prizes from the community supported prize board, with almost all taking home an excellent prize or two, ranging from Bridle Trails t-shirts, license plate holders, bags of apples (for their furry partners), or highly desired gift certificates from The Grange and Firstfruits Feed. A big thank you goes to the companies who donated prizes!
All attendees enjoyed great music, beer on tap from the Bellevue Brewing Company, root beer floats, and of course - all of the horses received bunches of post-ride carrots. Park supporters, friends and family members who came to witness the fun swelled the crowd to more than 40 people. This was an excellent community event newly added to our array of summer programs – be sure to join us next year!
---