Newsroom
THIRTY DOGS CAME TO PLAY! Walk 'n Wag July 30th
Posted on 07/31/2014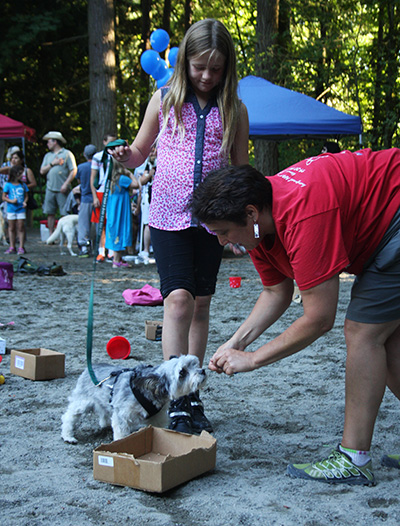 THIRTY DOGS CAME TO PLAY!
7-30-14
Walk n' Wag 2014 featured an interactive K9 Nose Work demo with NACSW instructor Erica Wells from Dogs Day Out in Seattle; doggie dental care tools and toys from Dr. Judy Hung of Eastside Veterinary Associates; and abundant treat bags, health info and three delicious flavors of ice cream from Sherry Bravenec at Mud Bay Granary. Thanks to all these great folks!
Erica introduced participants (50+ humans and 30 dogs) to this confidence and focus building activity that can provide a safe way to keep dogs mentally engaged and physically healthy. All props in the demo were household items found in most everyone's basements, garages, and yards, making it simple to go home and give it a try. Owners and their pooches were encouraged to partake in the nose work activities, revealing the interest and talent of even the smallest and shyest canines in the crowd. Erica answered individual questions and noted that as skills progress, the target odor is switched from desired treats to one of three oils: Birch, Anise, and Clove, and that these are the odors used in competition.
Former Bridle Trails Park Ranger and current Foundation trustee Mary Welborn led 15 four-legged friends and their owners on a walk via the Raven trail shortly before the evening fun came to an end.
The Park Foundation sent everyone home with a "Happy on My Leash in Bridle Trails State Park", a roll or two of doggie poop bags (Puget Sound Starts Here), and notes on canine and equestrian safety in the park.
Thank you to everyone who came out and shared their beloved non-human housemates with the community – we'll see you next summer!
---