Newsroom
Big Dogs & Little Dogs Came to Walk 'n Wag 2015
Posted on 08/14/2015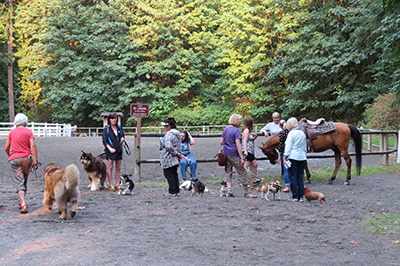 About 50 people and 20 dogs turned out for our third annual Walk 'n Wag event, with a canine audience that ranged from a giant Leonberger to tiny mixed breed dogs. Many of the dogs loved bobbing for hot dogs in a pet pool. Some, like the Labradors, were downright professional about it, but a Sheltie just could not bring himself to stick his nose underwater. Mud Bay was there to provide treats, including the ever popular doggie ice cream, and lots of other free stuff was to be had.
Dogs and owners also got a chance to meet a friendly horse – Foxfire – and learn about how to safely pass horseback riders on the trails in the park. Dr. Judy Hung of Eastside Veterinary Associates was on hand to answer questions about dog health, and representatives of Old Dog Haven and Seattle Purebred Dog Rescue were there to answer questions about the great work their rescue groups do and how one might rescue a dog, young or old, or become a foster home. Former Ranger Mary Welborn wrapped thing up with a walk in the park with dogs and owners.
We extend a big THANK YOU to Eastside Vets, Mud Bay, Old Dog Haven, SPDR, and Foxfire for helping us to have a great event!
Check out our Photo Gallery under News & Events for photos of the event.
---