Newsroom
Over 600 Celebrate Spring in the Park!
Posted on 04/16/2019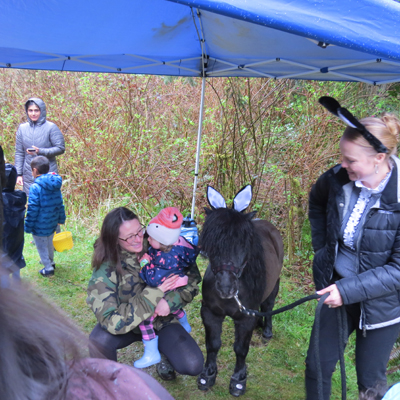 Saturday, April 13th marked our 3rd Annual Egg Hunt. While the weather was less than ideal at 47 degrees and drizzling rain, 300 kids and their families showed up ready for adventure.
Upon receiving baskets and directions, egg hunters set out on the 1.5-mile Trillium trail to collect many of the 3,000 eggs placed along the trail in the morning, and answer questions from springtime interpretive signs designed just for the event.
Surprises out along the trail included a bird song tent where participants learned to identify the calls of the Pileated Woodpecker and the Pacific Wren, two of our vocal resident birds; a jellybean and juggler station; the Jet tent, where kids got to feed, pat, get photos with, and learn about our favorite local mini horse; and a welcome to the park from our Ranger, Matt Birklid.
Upon their arrival back at the park event grounds, participants returned their eggs for a treat bag containing an egg full of candy, the Foundation's 2019 calendar of events, and a horse figurine with an equestrian pedestrian safety message. Soggy but completed interpretive question sheets were entered into 4 x $50 raffle drawings for Amazon gift cards.
The community fun continued with hot chocolate and coffee for the chilled egg hunters; games for the kids (eggs in a basket and rabbit roundup); an extensive interpretive booth with bird and egg specimens and displays from our friends at Eastside Audubon; and a Washington State Parks booth where kids could study and touch a few animal specimens and learn more about adventures awaiting them in other State Parks.
A wonderful April morning in Bridle Trails State Park!
Can YOU answer these questions?
    Where do coyotes make their homes in the park?
    What is one of the park's earliest blooming flowers?
    What is one colorful migrant bird that visits Bridle Trails State Park?
    What should you do when you meet a horse on the trail?
---