Party in the Park 2018 Event details
16th Annual 'Party in the Park' 2018 Event Details:
Where:     Bridle Trails State Park
                  5300 116th Ave NE, Kirkland - main entrance
                  ** See note on parking below
When:      Saturday, June 23rd
                 8:30 AM – 12:30 PM
Please join us for our Party in the Park 2018! We are working hard to recreate the carnival atmosphere we had the last two years, with fun for all! Details are tentative for now.
Breakfast:
8:30 AM – 11:30 AM:  Our famous 'baked on the griddle' Pancake & Bacon breakfast, served with coffee or juice - $5.00 a plate
Entertainment:
10:00 - 12:30:  Free entertainment featuring a pas de deux with beautiful Friesian horses, an equestrian drill team, clowns, fly ball dogs, Seattle Bubble Man, and more! 
Kids' Activities:
9:30 AM - 12:00 PM:  Pony rides, face painters, the balloon man, games, a donkey dash, a petting zoo, and more! No charge, but donations gladly accepted. A suggested donation of $5.00 for pony rides.
Trail Fun Runs: 5K and 10K and Family Adventure Trail Walk
  7:30 AM - Day-of-race registration and packet pickup begins 
  9:00 AM - 10K run begins 
  9:05 AM - 5K run/walk begins 
Fun Run Registration (5K & 10K) includes pancake breakfast and entry into prize drawing!
5K & 10K Pre-Registration: $35.00 adult/child OR $60.00 per family - a family is one parent and at least one child.
5K & 10K Race-Day Registration: $40.00 adult/child $70.00 per family - a family is one parent and at least one child.
1K Family Adventure Trail Walk: Pre-Registration: FREE (incentives below)
Event T-shirts: Guaranteed T-shirt deadline for 5K and 10K registrants is Wednesday, June 20th at midnight.
Register for ALL trail events at RUNSIGNUP (click here). 
Packet pick-up and race-day registration open at 7:30 AM in the park! Credit card, check, or cash accepted on race day.
5K &10K Course Details: This is a timed race. Course is on dirt and gravel trails in the park. The ground is often uneven, hilly in places and riddled with tree roots. No dogs or bicycles will be allowed on the course. While child jog strollers are allowed, please keep in mind that you will be running or walking on narrow, natural dirt trails. To be considerate of others, please start in the back of the pack if you plan on bringing a stroller.
1K Family Adventure Trail Details: A unique family fun scavenger hunt in the Park! All families who PRE-REGISTER for this event (and complete the trail on the 23rd) will receive two raffle tickets for each participant for a drawing prize pool of goodies with over a $500 total value. Think kids discovering nature, slugs, a magician, and other wonderful surprises!
For more information, email runs@bridletrails.org.
Merchandise:
Available for purchase: T-shirts, hats, etc.
** Parking, Free Shuttle:  Due to the expected attendance and need for horse trailer parking, there will be limited parking in the main lot. It will be restricted to disabled parking for those displaying a state-issued handicapped placard and event-support vehicles only. Attendees will need to park at the Central Park Tennis Club on the north end of the park. The entrance to the Central Park Tennis Club parking lot is across the street from Ben Franklin Elementary School at 124324 NE 60th Street, Kirkland. There will be shuttle service between the Central Park Tennis Club and the event. Since the park is only a few minutes from this parking lot, the shuttle will be making trips every 10 minutes from 7:30 am to 1:00 pm. Please consider using this FREE service!
OTHER INFORMATION:
Party in the Park Volunteer Information
Be a Sponsor for Party in the Park 2018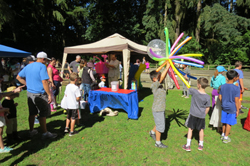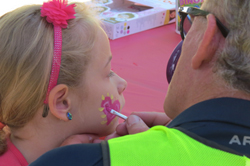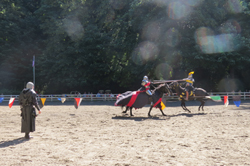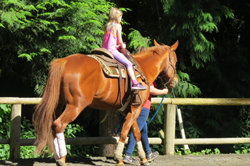 ---