Environmental & Education Programs
Interpretive Trail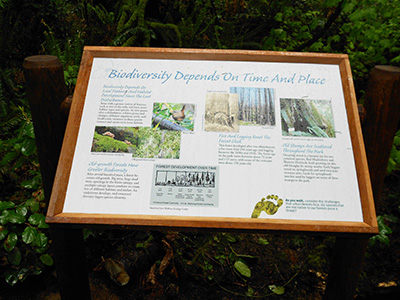 Bridle Trails Park Foundation, in partnership with Washington State Parks, created and installed interpretive signs along the Trillium Trail in 2010. The ten signs were written by ecologist Jim Erckmann, with the design done by artist and interpretive designer Linda Feltner.
Funds for designing and fabricating the signs and building the frames were provided by a grant from the Washington State Parks Foundation and a donation from Puget Sound Energy. Site prep and sign installation were done by park staff and volunteers.
These interpretive signs along the Trillium trail provide information related to specific trees, other forest organisms, or natural patterns within the Park. We are hoping this enhancement to the park will be enjoyed by everyone and will support our nature walk and environmental education programs.
The interpretive signs were designed to be viewed by both equestrians and pedestrians.
---