Environmental & Education Programs
Stewardship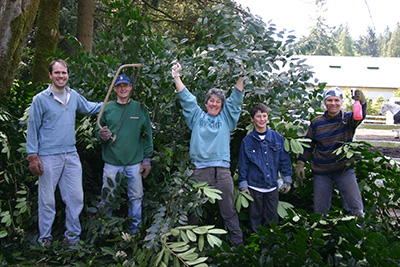 Stewardship involves helping to protect, preserve and enhance the Park.
This can be as simple as picking up any trash you see as you walk the trails or helping in any number of volunteer stewardship events.
The primary stewardship event held by the Foundation is associated with Earth Day. Typically each year, huge waste containers are filled with non-native and invasive ivy, laurel, holly, and blackberry.
At other times volunteers plant additional native plants, maintain trails, pick up trash, and help with landscaping the picnic area or at the Park's Acheson property on 132nd Ave NE.
Stewardship events are not limited to Earth Day. If you are associated with a local group or company, or a scout group, and would be interested in volunteering, please contact Jim Erckmann at programs@bridletrails.org
---