The Agreement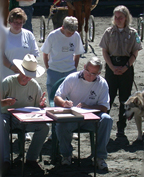 ---
In June, 2003, the State Parks and Recreation Commission entered into a unique and historic agreement with Bridle Trails Park Foundation. The basic points in the agreement state:
Agreement is for a term of 40 years.

Bridle Trails State Park will remain off the closure list for the term of the agreement.

State Parks will continue to manage, operate and maintain it as a State Park in accordance with the levels of service adopted by the Commission, as they exist now or as they may be amended for the State Parks system.

For this assurance, the Foundation has agreed to make annual donations to the Commission to pay 50% of the uncovered operating costs of Bridle Trails State Park.

If the Foundation fails to make payments as required, the State will be free to terminate the agreement.

Bridle Trails Park Foundation trustees, and all those who value Bridle Trails State Park, sincerely thank members of the Washington State Parks Commission for their unanimous approval of the Donation Agreement and their ongoing support of our efforts. We look forward to a long and productive association!
Special thanks to Rex Derr, now retired State Parks Director, whose enthusiasm, dedication, and willingness to work with us made this agreement a reality and to members of WA State Parks who work with us on a day-to-day basis to make it a success!
---
---